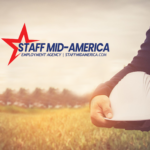 Staff Mid-America
General Labor for Meat Processing Plant:
Job will consist of opening both frozen and thawed meat product for further processing or packing meat
This job is physical and messy, lifting and bending but nothing over 25lbs.
Will need to dress warm, temperature on the production floor varies from 38 to 42 degrees (jeans, long sleeves, coat, preferably boots, but can wear tennis shoes because of type of floor we have, warm thick socks).
NO open toed shoes
NO jewelry
NO nail polish
NO fake nails
NO fake eyelashes
Clean Clothing Daily
PROPER HYGIENE is a must (you are working with food).
PAY: $12:00 an hour to start
M-F  7:00 am – ? (when they are done processing for the day), if plant is running on Saturday it is mandatory OT
30 min lunch break, 15 min morning break